30 YEARS OF OPTOMER - NEW PRODUCTION HALL, NEW POSSIBILITIES
We celebrate our thirtieth birthday in a special way – by finishing the expansion of the production plant. The new, bigger hall opens up new opportunities for us and is another step in the company's further development. What will our clients gain from it?
By expanding the plant, we respond to the growing market demand. The company's expansion is a strategic move resulting from the continuous modernization of solutions used in fibre optic networks, both in the Polish market and abroad. This investment will not only allow us to increase production capacity but will also improve production management efficiency and transport and storage services..
The new production hall is located at Maratońska 104 in Łódź. It is a facility with dimensions of 82 × 41 m2, a height of 10 m and a total area of 3,538 m2 (including production space – 2,471 m2, shipping and warehouse space – 490 m2, and office space – 577 m2). It accommodates twenty-four modern, autonomous production lines, enabling scaling and quick adaptation to the customer's and market's current needs. There are also three loading docks.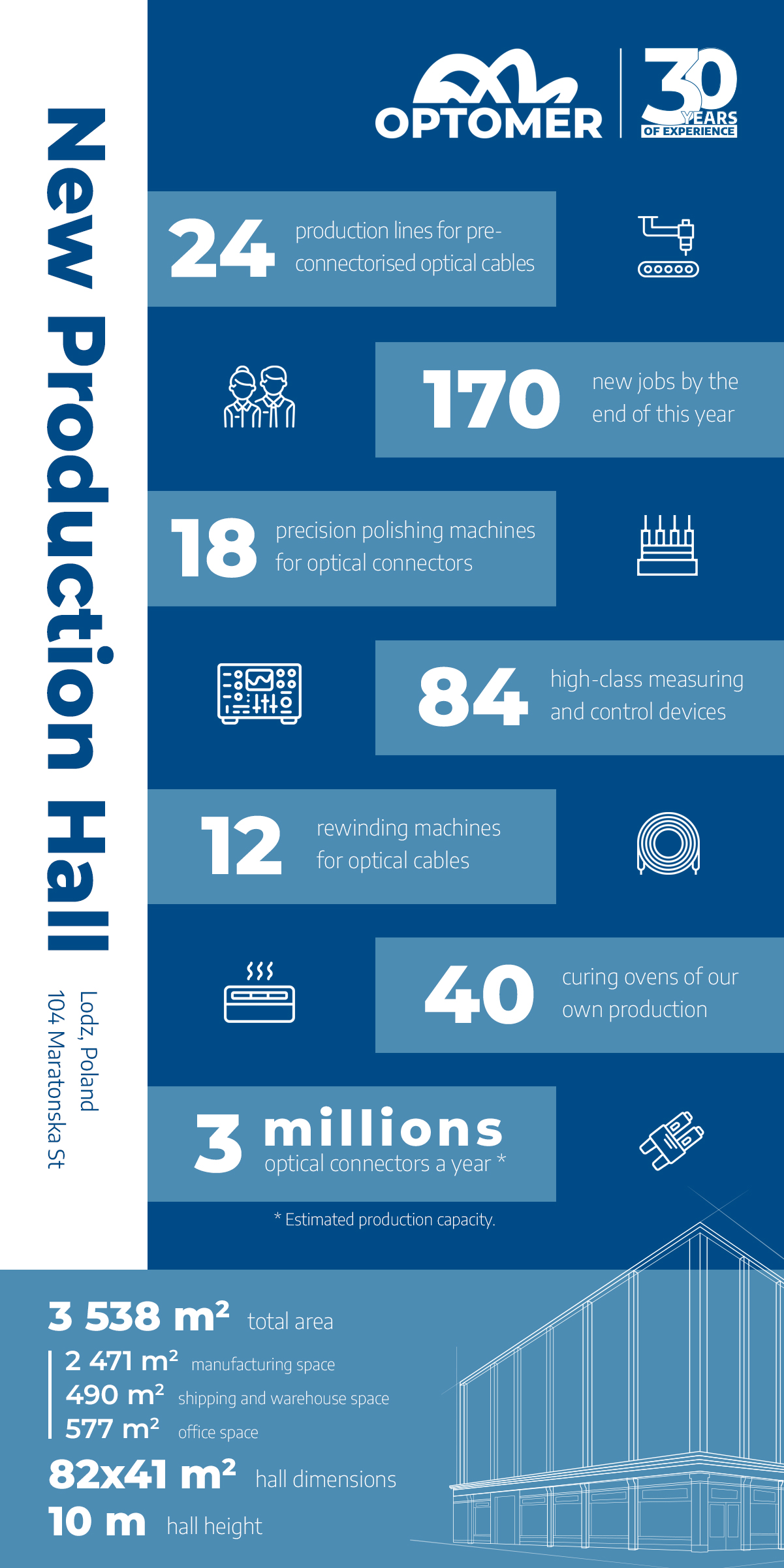 PRODUCTION OF PRE-CONNECTORISED OPTICAL CABLES - MORE EFFICIENCY, THE SAME QUALITY
The assumption behind moving the production of fibre optic connectors to the new plant was to increase efficiency while maintaining the highest quality products. Thanks to the active centring of the fibre core, used in the production process, our optical connectors are distinguished by excellent technical and transmission parameters.

Production lines ergonomically placed in the hall have been equipped with, among others, precision polishing machines for fibre optic connectors from Domaille – a world leader in this field, as well as high-class measuring and control devices from Optotest and Dimension. In addition, the machine park also includes epoxy resin hardening ovens designed and assembled by our engineers, rewinding machines and machines for cutting optical cables.The expansion of the team along with the aforementioned changes will enable an increase in the production capacity of up to 3 million fibre optic connectors per year.
MODERNISATION OF FIBRE OPTIC HARDWARE PRODUCTION
The OPTOMER headquarter still remains at Kaczeńcowa 8 in Łódź. Here is the production of fiber optic hardware, with ten assembly points supported by three stations adapter to the production of standard porfolio products, as well as the ones developed for individual customer request.
We offer not only empty but also fully equipped optical boxes, including adapters, pigtails, patchcords and splitters (product line "OPTOMER Connect System +").
With the transfer of the production of pre-connectorised fibre optic cables to the investment at Maratońska 104, the annual capacity of the expanded optical hardware plant increased. At the moment, it is 20,000 pcs of empty boxes, 10,000 pcs of equipped boxes and 5,000 pcs of non-standard products.
30 YEARS OF EXPERIENCE IN THE TELECOMMUNICATIONS INDUSTRY
OPTOMER have been operating in the telecommunications industry since 1992. As a manufacturer of a passive fiber optic equipment, we provide full solutions for the FTTH networks. Years of experience, market knowledge and cooperation with the largest Polish operators allow us to provide our clients with full technical support and reliable service for each investment.
We share the knowledge we have gained through certified training for people from the energy and telecommunications industry as well as representatives of public administration. The best quality of OPTOMER products is confirmed by numerous certificates and industry awards.