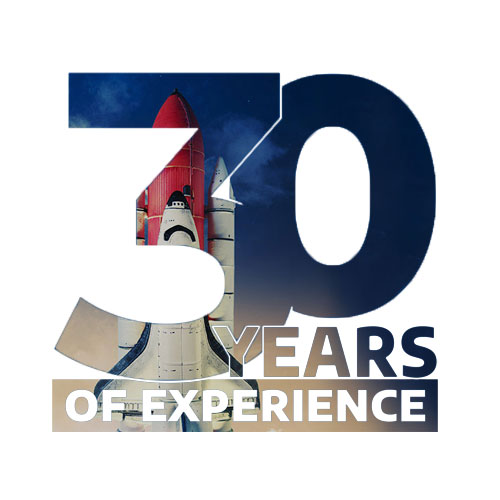 OPTOMER, THE BRAND WITH 30 YEARS HISTORY, HAS ALWAYS BEEN ASSOCIATED WITH THE HIGHEST QUALITY.
OPTOMER, is a rapidly growing company, with almost thirty years of experience in the telecommunications market, specializing in fiber optic technology. As a representative of the Swiss company DIAMOND, the world leader in high performance optical components production, OPTOMER provide innovative solutions, modern technology and comprehensive technical support.
The best performance and reliability of our products are confirmed by positive opinions of the installers and users.
1992 In Lodz OPTOMER is founded as a representative of the Swiss Diamond company and one of the first Polish manufacturers of optical cables and fibre optic equipment. Transfer of advanced technology, production and measuring equipment the Polish market enabled us to offer optical connectors with unprecedented precision. OPTOMER the first manufacturer in Poland has implemented the technology front ferrule polishing machine. We started to produce all standard fibre optic connectors, different from other products using the unique technology of Active Core fibre alignment. With this technology it is possible to obtain almost perfect repeatability of parameters and production.
1995 Fibre connector E-2000 was awarded a gold medal of INTERTELECOM '95 fair. Because of its usefulness in the most liable fibre optic transmission networks E-2000 connectors have become the standard for major telecommunications operators in Poland.
1997 Certificate confirming the inclusion of the company to the quality management system ISO 9001 by DIAMOND. This allowed the use of the most modern laboratory facilities in the world. Comprehensive and accurate testing of optical cables, including interferometer measurements confirm the maintenance of high-quality connectors produced in.
1998 Beginning of modern pair-gain distribution systems, PCM and ISDN subscriber for copper networks.
2000 The fibre-optic access network equipment for the SD-2000 won the prestigious Golden Laurel Infotel for innovative, forward-looking solutions. Modern office opened to allow rapid development and increasing production. Certification of Quality Management System ISO 9001 company OPTOMER.
2003 Our company has been awarded the emblem of the "POLISH SUCCESS". Obtaining certification from the British Standards Institution No. FS 77493, certifying that the Quality Management System complies with the requirements of BS EN ISO 9001:2000
2007 We were in a prestigious group of Business Gazelles 2007, that is, companies that achieve excellent financial results, develop dynamically and are reliable business partners.
2008 In late 2007, we began implementation of the ERP system and fully launched the system in 2008. The implementation of a complete system to manage the company, allowing the company to increase efficiency in the warehouse, logistics, production, sales and accounting. The consequence of this is to improve the quality of customer service and streamline the company. Launching a new website with proprietary solution www.optomer.pl product catalog
2009 The continuous growth of the company has resulted in development of a new outlet for FTTH networks.
2010 We are a major supplier of FTTH fibre optic equipment for the construction of Poland's largest optical access network, implemented by Telefonia Dialog. The project includes more than 70 thousand apartments in cities such as Wroclaw, Zielona Gora and Lodz. It is the largest project of its kind in Poland and one of the largest in Europe.
2011 We have won a tender to supply equipment for FTTH Orange. This year cable assemblies department has been expanded by adding new jobs and we have implemented a central printing system and electronic document workflow
2012 Year 2012 for the company OPTOMER was crowning of 20 years in the telecom market. On this occasion, we have changed our image, changed our company logo in order to associate it more with our operations. Also we have changed our website, which will be even more friendly and helpful to our existing and new customers. Our warehouse has expanded so that we will be able to react more quickly to the needs of customers orders.
2013 OPTOMER have become a member of the Global Compact, a worldwide program aimed at improving the working conditions, environment protection and anti-corruption actions in companies around the world
2014 Distribution of the Danish Fibre Blowing Machines manufactured by Fremco. OPTOMER have started the certified Fibre Blown Tchnology training courses and workshops. OPTOMER have become a member of the Polish-German Chamber of Industry and Commerce AHK Poland
2015 OPTOMER, as the first manufacturer of passive optical equipment in Poland, have launched the online shop www.sklep.optomer.pl with the user product configuration functionality.
2016 OPTOMER have again received the prestigious award "Gazele Biznesu" granted to the most dynamically developing small and medium companies. The ranking is organised by Coface Poland on special request of "Puls Biznesu" (read more >>). OPTOMER have issued the updated electronic and printed product catalogues. (read more >>). The production, office and conference space expansion works have been launched. (read more >>). OPTOMER have introduced the transparent customer drop fibre for discrete installation in the end user premises.(read more >>).
2017 OPTOMER have exceeded the number of 100 employees in the facilities in Lodz and Warsaw office. The R&D and Design Office engineers are involved in research and development activities. High quality and reliability of OPTOMER solutions result in the increase of sales figures including significant growth of exports to foreign countries all over Europe.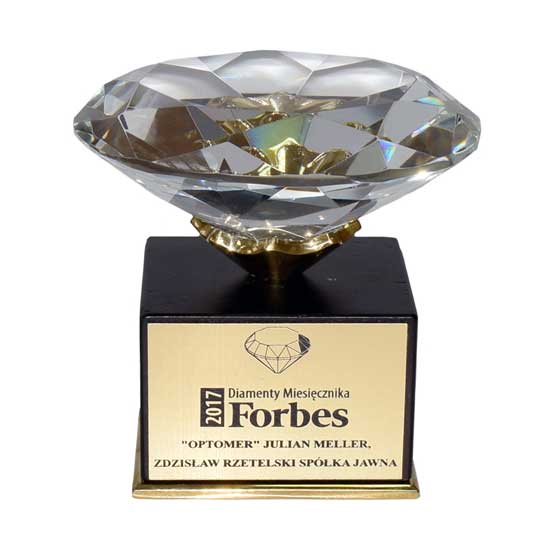 Forbes Diamond
OPTOMER has been honored by the editors of the Forbes with the "Diamond" award for the most dynamically developing enterprises in Poland.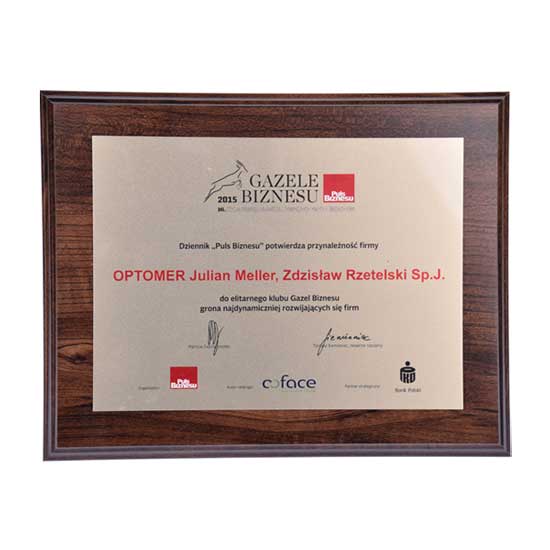 Gazelle of Business 2015
"Business Gazelles" is the most popular and the oldest ranking for the most dynamically developing small and medium companies.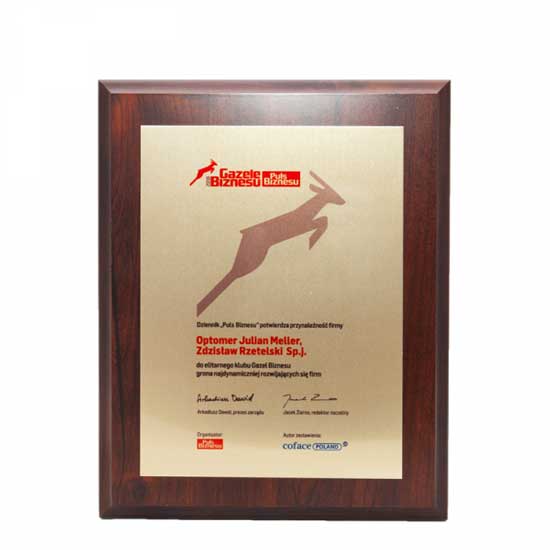 Gazelle of Business 2008
"Gazelle of Business 2007 award which allowed us to enter group of best developing companies in Poland.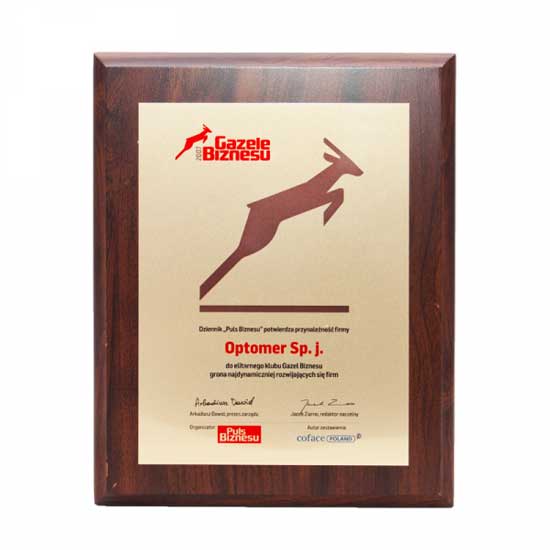 Gazelle of Business 2007
"Gazelle of Business 2008" award which reassure our position as most dynamic developing company in Poland.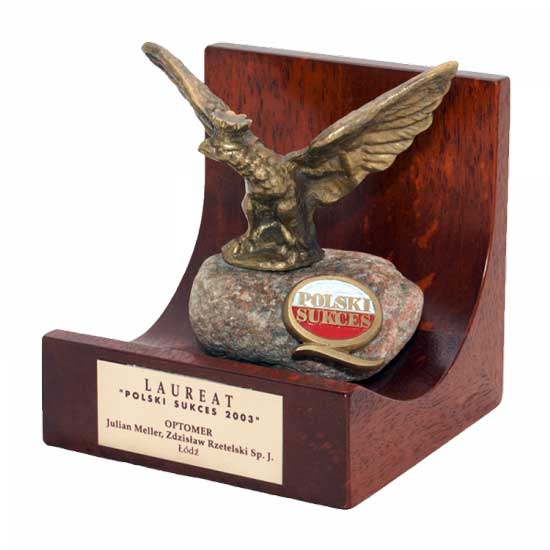 Polish Success 2003
Statuette of "Polish Success 2003" for economic achievements thanks to equity capital and hard work.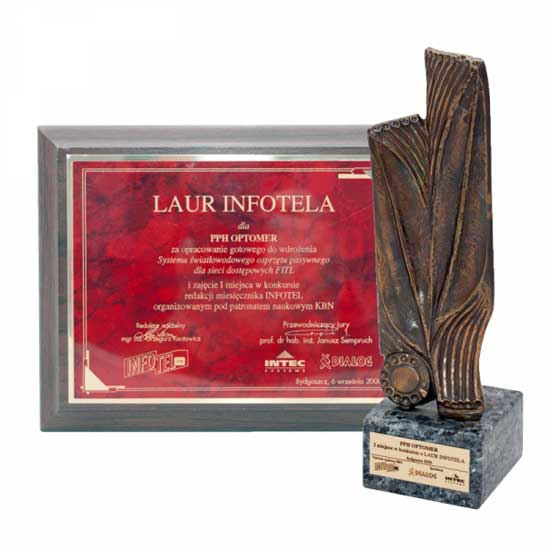 INFOTEL LAUREL
INFOTEL Laurel for SD-2000 Fibre optica Access Network System.
RESEARCH & DEVELOPMENT
Professional advice on selecting products and choosing optimal fibre optic solutions with a comprehensive supply, are the biggest advantages of OPTOMER. We are satisfied with the full and reliable service we give to our customers in the segment of optotelecommunication investment processes: from design, through training, sales and technical support. The Headquarters of the company, Design Office and Logistics Centre in Lodz and sales office in Warsaw, ensure fast and reliable execution of orders.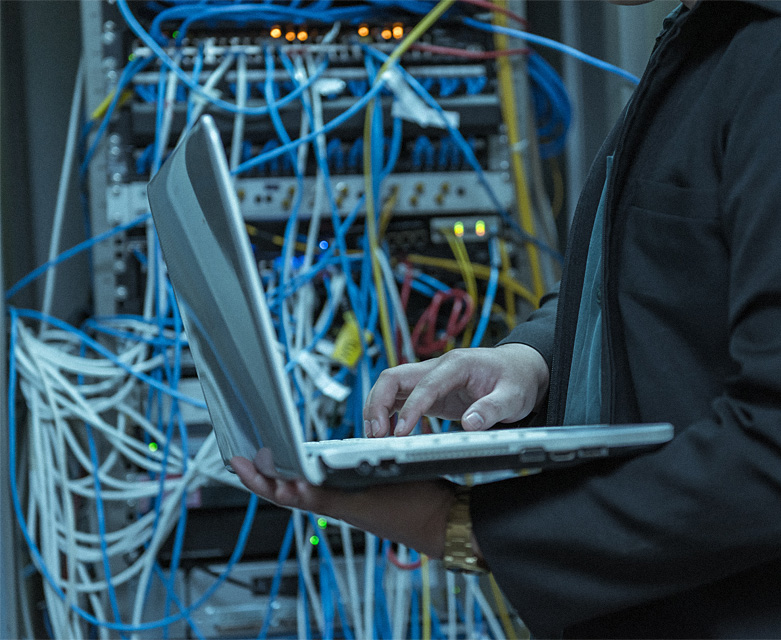 Innovation is our priority. OPTOMER was the first manufacturer inPoland, that implemented the technology of fibre optic ferrule endface machine polishing. The production of DIAMOND hybrid ferrule fibre optic connectors uses the innovative and patented Active Core Alignment technology. It allows high volume production of excellent performance connectors with the repetitive insertion loss values of 0.1 dB (0.1 dB E-2000/APC connector standard). 
With new products designed at our design office we pay great attention to be compliant with International, European and Polish standards. All our products and solutions are supplied with the Declaration of Conformity.
WE WORK CLOSELY WITH THE BEST AND MOST EXPERIENCED PARTNERS
We work closely with the best and most experienced partners in the telecommunications industry. We are the official representative of the British company EMTELLE, offering a wide range of blown fibre technology products dedicated for construction of optical networks. We also offer HellermannTyton's fibre optic closures from the UK, NOYES fibre meters andCorningfibre optic cables from theU.S., overhead network systems and accessories from French companies Acome and Telenco, active devices from German company Microsens.
The upcoming years will be crucial for the development of FTTx networks inPoland. Being a major technology provider and a supplier of equipment for the construction of fibre optic broadband networks (FTTH/FTTB/FTTO) to the Polish Telecom (Now Orange), Telefonia Dialog S.A. (Now Netia S.A.) and other operators, gives us a great satisfaction.