Thanks to unrivaled quality of the signal and true broadband transmission, the FTTH network infrastructure is ideal to provide TV services in addition to Internet and telephony. CATV technology is simple to apply in FTTH networks. The TV signal is transmitted with the use of additional 1550 nm wavelength.

To provide GPON and CATV services to the end user through one fibre it is necessary to use a passive optical filter allowing simultaneous transmission of 1310/1490 nm GPON and 1550 nm CATV signals. These FTTH/CATV filters are installed in central offices.

On customer side CATV and GPON signals are separated with another filter. The filter is installed inside the customer' ONT terminal, so that with one subscriber unit the operator is able to provide three services Internet, telephony and CATV.

All FTTH passive infrastructure components manufactured by Optomer are compatible with CATV technology. This way CATV transmission can be added to the existing GPON FTTH infrastructure any time in the future.
OPTOMER provide complete solutions of FTTH infrastructure systems dedicated for various network scenarios.
FTTH infrastructure within Multi-Dwelling Units
In Multi Dwelling Unit Scenario GPON/CATV fibres from central office are routed to PSMO, PSP or PSPE splitter box located inside the building. The splitters split each fibre into 8, 16, 32 or 64 fibres further routed vertically in multi fibre easy access cables. The MP-16D floor boxes interface vertical and horizontal cables. Horizontal single fibre cables are routed directly to NGO-12 fibre optic outlets located in subscribers' apartments.
FTTH infrastructure within Residential Housing Developments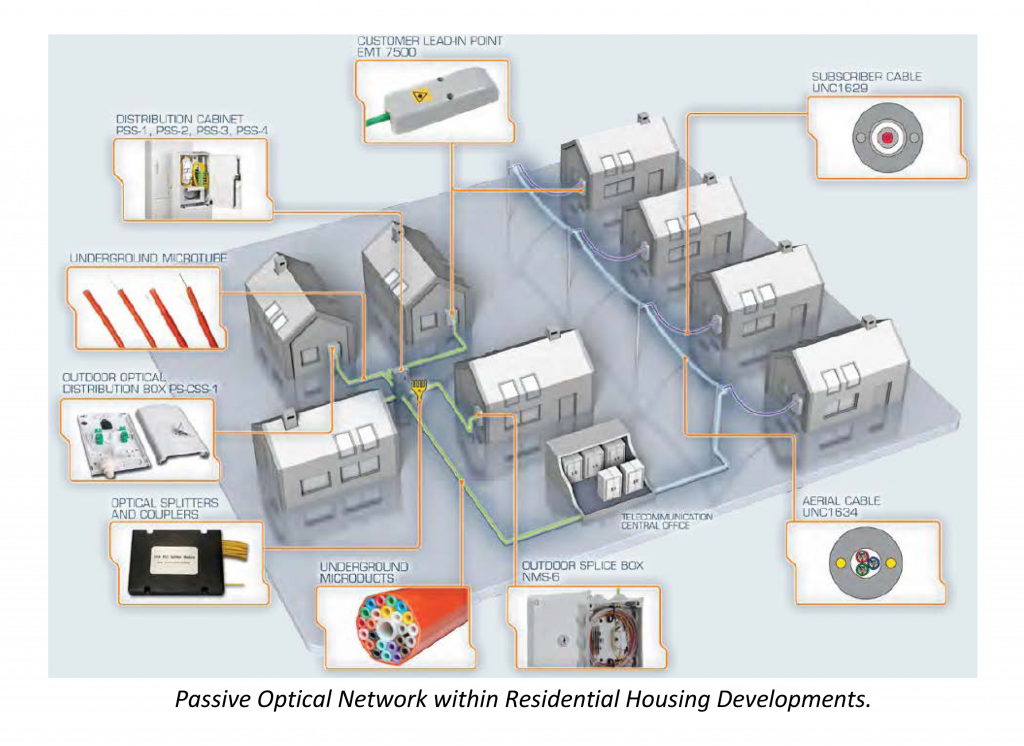 The basic principle of signal distribution in residential housing developments is the same as in Multi Dwelling Unit scenario. The network topology depends on the local environment and available telecom outside plant infrastructure. In order to limit CAPEX, the existing teleco infrastructure is advised to be used. If new infrastructure is planned microduct technology is recommended. Blown fibre technology provides easy and convenient future network expansion possibilities and limits the number of cable reserve chambers, manholes and fusion spliced connections.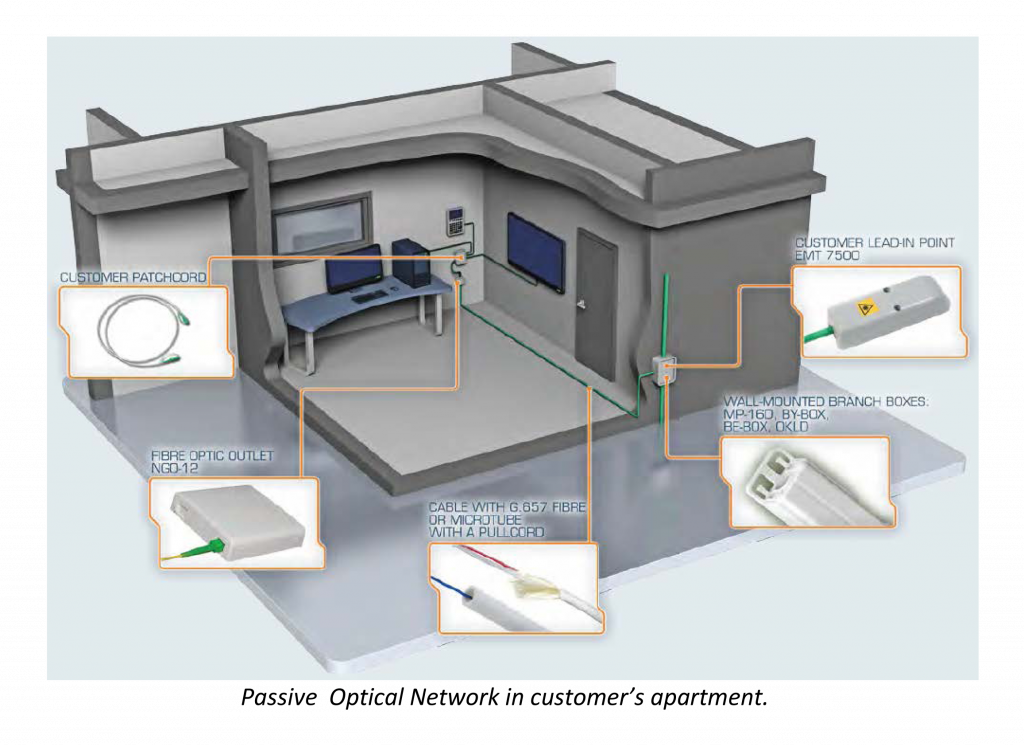 Home environment requires application of reinforced, non flammable, Low Smoke Zero Halogen cables with bend insensitive fibre.
In order to protect users against harmful laser radiation application of Optomer NGO-12 wall-mounted fibre optic outlet is recommended. It incorporates a spring loaded adapter protection shutter which closes the access to adapter when connector is removed.
Developed by:
MSc Eng. Tomasz Rogowski
Optomer Development Department
e-mail: t.rogowski@optomer.pl
phone: +48 42 611 01 00 ext. 31
International sales:
e-mail: sales@optomer.pl
phone: +48 42 640 52 15