There are several guidelines aimed at ensuring the proper quality of teletechnical infrastructure. Some of them concern, among others, fire safety. OPTOMER experts explain how to connect fiber optics to meet standards in this area.
Any indoor building installation (not just fiber optic) can pose a risk during a fire. The plastics used for cable production can burn in an uncontrolled manner and produce harmful compounds, as well as pungent smoke hindering evacuation. The purpose of any restrictions is to minimize this risk.
In Poland, there are appropriate restrictions on materials used in telecommunications. In particular, they refer to those used in buildings inhabited by people. The restrictions apply equally to all installations, including electrical and fiber optic. However, while in the first case the electrical installation itself can be the cause of the fire (e.g. as a result of a short circuit), this risk does not occur in the case of FTTH access networks.
WHAT CONDITIONS MUST BE FULFILLED BY FTTH NETWORK MATERIALS?
The restrictions are associated with:
Non-flammable cable coatings – however, a safer word would be flame retention. This means that the coatings will burn in the presence of fire, but will extinguish spontaneously when the source is removed. Also, melting material should not drip during a fire. This would pose a risk of burns during the evacuation proces.
Generating pungent smoke – to not obstruct evacuation from a burning building, all materials used in the installation must not produce thick, pungent smoke.
Content of harmful compounds – some plastics emit hazardous substances that are harmful to humans during combustion. Such materials must not be used in indoor installations.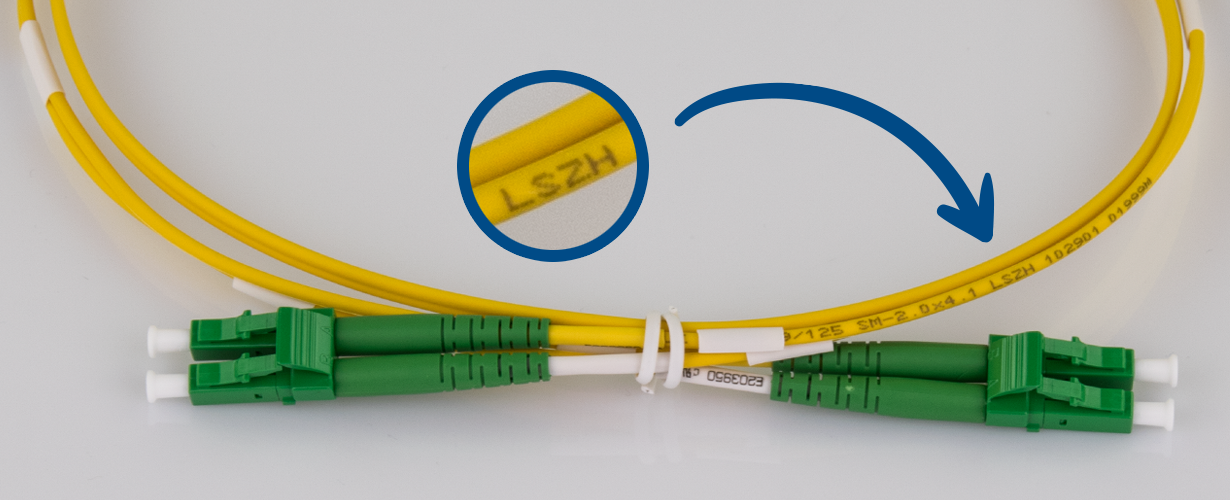 Information on LSZH properties is provided on the LC patchcord offered by OPTOMER
Therefore, indoor fiber-optic networks are fire safe as long as they are made of appropriate materials. Each of the elements used should be adapted to be installed inside residential buildings. Such elements are most often marked with the symbol LSZH, LSOH or LS0H which is the abbreviation (Low Smoke Zero Halogen) for producing small amounts of smoke and not containing harmful halogen.
When choosing the right components, one should first of all be guided by quality and pay attention to the technical data and material from which the products are made. It is advisable to use the services of proven, certified producers.
Articles from the Knowledge Center are created in cooperation with OPTOMER's R&D Department. Our experts have been successfully training installers and public administration representatives for years!